Why we should go for Handmade Carpet and not for Machine Made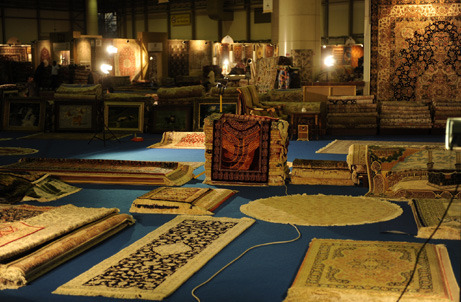 Why should you go for HANDMADE CARPET and not FOR SYNTHETIC MACHINE MADE CARPET.
Earth Day is the time for raising awareness of environmental factor, good and bad. Education is key in making informed decisions that affect the future of our planet, and inevitably our future generations. We at KOHIMARAN feel our obligation towards the environment duties. As we always feel that we are a green company that actively supports the best use of our natural resources. "There are so many overlooked benefits to owning a one-of-a-kind Handmade rug other than their obvious durability and simplistic beauty. You may already be aware that these hand-made rugs do not incorporate any machine process, are made from natural dyes and can take days, months and even years to complete but it's what you don't know about their synthetic counterparts that will shock you."
Our company in various research and checking the facts from various factors have come up with at least most important five factors which lay the main differences between Handmade rugs and synthetic carpeting:
1. Every year approximately 10 billion pounds of carpet are discarded in the world.
Handmade Rug Benefit: These heirloom quality rugs increase in value as they age and are handed down generation to generation rather than discarded.
2. New carpet can be a source of chemical emissions responsible for a variety of symptoms such as eye, nose throat irritation, headaches, and shortness of breath. This can be especially dangerous for newborns and the elderly.
Handmade Rug Benefit: These wool/silk rugs are non-toxic and purify indoor air of common contaminants like formaldehyde, nitrogen dioxide and sulphur dioxide by locking the contaminants deep in the core of the fibre. Wool/Silk carpets continually purify indoor air for up to 30 years.
3. Carpets can be linked to a number of respiratory problems such as asthma and allergies; this is attributable to, in part, mold, mildew spores, pet hair, and dander, out-gassing from synthetic fibres.
Handmade Rug Benefit: These hand-knotted rugs are non-allergenic and will not support bacterial growth.
4. Synthetic fibers used for carpets tend to melt rather than flame therefore leading to severe burns if skin contact is made as well as polluting the air with its chemicals emissions.
Handmade Rug Benefit: Naturally flame resistant these wool rugs have a high moisture and protein content making them difficult to ignite initially and self-extinguishing once the flame source has been removed.
5. There are no benefits to synthetic carpets and their ability to heat or cool a room.
Handmade Rug Benefit: The Handmade rug has is a natural source for sound proofing, used often in apartments and recording studios. It can absorb up to 30% of its own weight in water vapour without feeling wet and than release or retain this moisture keeping you cool in the summer and warm in the winter.
This is not a hard-sell tactic; it's not a strong-arm manoeuvre – just facts. Armed with this knowledge you can make an informed decision that will make a direct and immediate contribution to the well being of your family, and future generations. Guilt–free and smiling why would you choose anything else?
About Kohimaran.
KOHIMARAN after three generations in carpet business and having established in Malaysia in the year 1993 with a commitment to providing consumers Oriental rugs, Persian rugs, and area rugs at affordable prices, witnessing the convergence of centuries old handcrafted tradition with modern technology enabled secure eCommerce solutions.