The Error's People do when they Clean Carpet's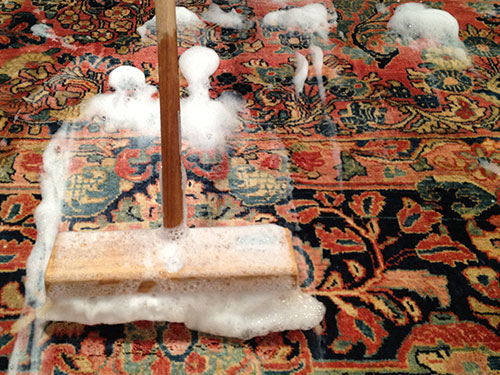 As a Responsible Merchant of the Oriental Rugs, it becomes our utmost duty to provide information and advice's to our Patrons and people who are interested in the upkeep of the Oriental Rug which is an ART dying now. To preserve the Quality of the same it becomes utmost an important duty on the merchants to advice their clients as to how one should be able to take care of their RUGS. Now a days there are lot of information going around as to ways of carpet care which are pretty basic and the internet has made it relatively easy to keep your carpet as clean as possible. There is a lot of how-to-do blogs and video lecturers posted on the internet, but there are far less information on how to prevent carpet cleaning mistakes. These mistakes, no matter how small, can lead to permanent damage.
We at KOHIMARAN thought of sharing certain points with you while you go under the process of cleaning the rugs So take care for the things you want to avoid when it comes to carpet care.
Respond to the Stains Quickly:
The care to remove the stains should be ASAP. The longer you wait to remove a stain, the tougher it will be to remove it. If you wait long enough, whatever spill fallen on the carpet will be absorbed by the carpet fibers. Once it enters the fiber completely you must realize the damage is done, you'll have little hope of removing it completely.
Water usage should be kept least:
Avoid suing excessive water because excess of the same make things worse. It can be more difficult to pick up excess water even with a steam cleaner. Remember, molds may start to grow in as little as 24 hours.
Avoid Chemical Products for removing the Dirt and stains:.
Usually we would advise people to avoid using Cleaning products containing chemicals on HANDMADE CARPETS as they will be too harsh for the carpet fibers. This can have a disastrous discoloration or even permanent damage on the Oriental rug.
Biggest Mistake of Scrubbing :
One of the biggest myth in Cleaning is that on any stains or dirt's on the carpets we should scrub the same . This action on the carpet is the worst treatment you can give to your Carpet . They think the harder they scrub, the better the stain will disappear. However, vigorous scrubbing can lead to damage. The smarter ways of removing a stain is to scrape whatever you can with a spoon, then blot the area with a paper towel or a clean cloth until dry even use vinegar to remove the same.
Treat The RUG as a most Valuable Merchandise / Assets owned by you and make it really a Heirloom for your family by taking  One step more CARE for your RUG