TAKING CARE OF YOUR ORIENTAL CARPET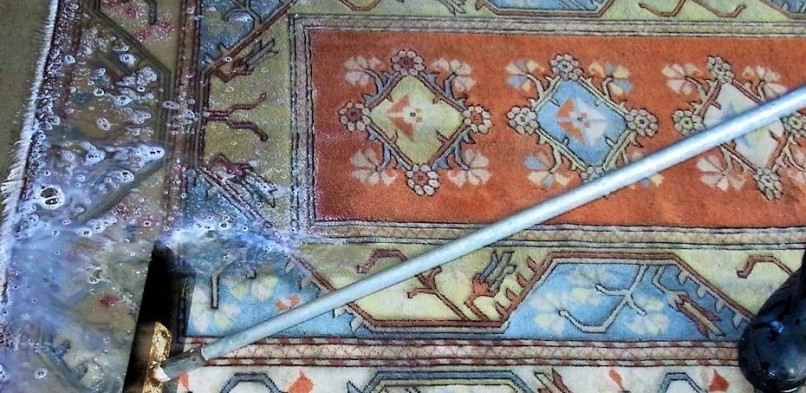 Hand Wash
In the weaving capitals of the world, handmade rugs are washed by submerging them for several hours in flowing rivers. The Submersion Hand Wash step simulates this age-old process, enabling all foreign matter to be purged from a rug. Using a continuous flow of water, combined with a mild, ph-neutral cleansing agent massaged deep into the fiber, further removes a rug's contaminants and keeps them from settling into the rug again.
While the rugs are submerged, three compression rollers purge or "squeeze" all remaining contaminants. Rugs with particularly stubborn contaminants, such as pet urine, are submerged for an extended period to guarantee their complete removal. We use small, medium and large sized compression rollers to ensure all contaminants are removed from the rugs before they proceed to the air rinse stage.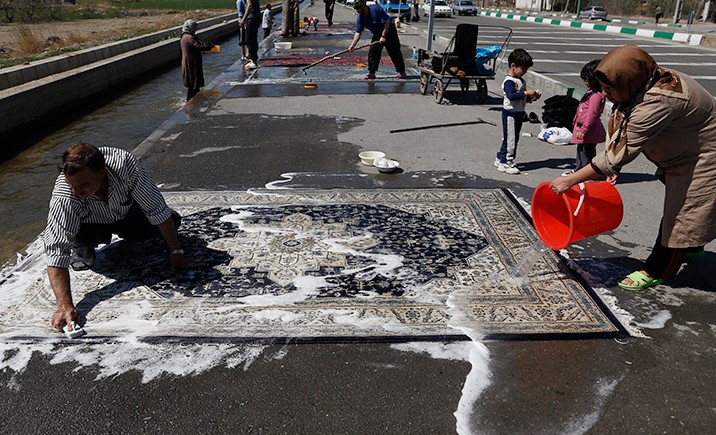 REPAIRS AND RESTORATION:
1 Accidents happen. Do not worry if your pet chews a part of your Persian,
Oriental, or Area rugs, mostly in the side parts. Our specialized carpet repair
personnel restore it as if never happened.
2- If you put your plants and flowers on your rugs and water them regularly,
water may spill each time without you noticing it. This water will damage your
carpets/rugs over time and the fiber of your rugs may crack and break when dried.
But don't worry; we can take care of this. We have Oriental and Persian Rug expert
repair men on site who know the fibers and texture of different rugs, no matter
where this rug comes from, Iran, Pakistan, India, China, Turkey or etc. Let us do the
rug repair while you relax because we have been in Malaysia since 1993
3- In many instances people do not know that repairing or changing the
selvages on the sides of the rugs can add to the rug's beauty and life. By investing
a little money, you can save big. Securing the fringes on both ends of a rug, keeps
the knots in their place and if properly secured, knots do not come off and you can
enjoy the beauty of your rug for many years to come.
This is a guide for the maintenance of your handmade Persian and oriental rugs
Oriental rugs Cleaning/Washing
(For woollen rugs) The beauty and life of handmade rugs depend largely on cleanliness and care. Handmade rugs should be washed regularly every three to five years depending on the use and the amount of traffic they bear. The best method is to get them cleaned when they look soiled.
WARNING
Never clean rugs chemically or by steam. They remove the natural oils and cause the material to become brittle and wear more rapidly. Do not wash handmade rugs in a machine. Do not wring out or squeeze a handmade rug. Do not, unless absolutely necessary, submerge a handmade rug in water. Surface cleaning is usually all that is required. The best way to clean oriental rug is for it to be washed using cold water and a mild detergent. This should be done by a competent cleaning expert and should not be tried at home.
Vacuuming
Never vacuum the rug's fringes. The continued catching of the fringe in the suction of a vacuum cleaner causes the fringes to break and tear. Always vacuum your rug without the beating brush, you can either turn the brush off, or just use the attachments. Keeping your rugs clean and vacuuming them when necessary is good for them.
Stain Removing
The following method for removing stains is of a general nature and may not apply to all rugs because of the different materials and dyes used.
SPILLS.
Take care of any kind of spill immediately. Most spills may be removed without permanent stain if taken care of right away. First pick up as much of the spill as possible using a cloth or paper towel. Then dilute the spill with water and blot the wet area until all of the moisture is removed. Repeat this process if any of the spill remains. Once you get the spill out, dry the wet area either with air, letting air under the rug also in the wet area by draping the rug over something. You can even use a hair dryer on cold to dry the rug. While drying, comb the pile in the same direction as the rest of the rug so that it dries in the proper direction